Pieces
Finally a real copy of one of the greatest giallos of all time. Grindhouse Releasing does a superb job presenting Pieces in crystal clear quality. This version is a tremendous upgrade over the $5 Diamond Entertainment copy.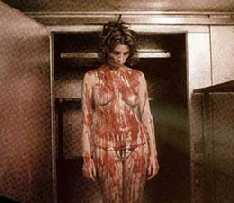 I remember the first time I saw Pieces it was around the mid 90s and their was a beat up VHS copy of it at my local blockbuster. About half way through the movie my VCR ate the tape and I couldn't finish the movie till years later when I ordered the cheap Diamond print. That copy was almost unwatchable, you can tell that it was ripped directly off of an old VHS copy. But now we are honored by the presence of the perfect print of Pieces. The best thing about this transfer isn't even the film itself, its the special features present on the DVD. After watching Pieces from beginning to end I discovered that there is an alternate version of the movie. The Spanish version of Pieces known as "Mil gritos tiene la noche", is different from the American version people are used to viewing. The first difference is the opening credits, but the most notable difference is the difference in the audio track. The music is completely different throughout the entire movie, and makes the movie feel completely different.
In the Spanish version dialogue sounds better because the actors other than Mr. and Mrs. George all spoke Spanish. But the music in this version is very classical and eerie. Personally I am starting to like the Spanish version of the movie better. The Spanish audio track makes the movie a lot more serious, it doesn't have the cheesy slasher feel the movie has under its alternate title Pieces. Mil gritos tiene la noche is a better film than Pieces, hands down. Originally I liked and praised Pieces because of its music and yes the movie had a layer of "Linda Day Cheese", which i enjoyed, but after seeing the alternate version there is room for debate.
The YouTube Video above is the intro to the Spanish print.
-Savage
---
Directors:
Juan Piquer Simón

Writers:
Dick Randall (screenplay) and
Joe D'Amato (screenplay)

Release Date:
23 September 1983 (USA)

Genre:
Horror

Tagline:
You Don't Have To Go To Texas For A Chainsaw Massacre!

Also Known As:
Mil gritos tiene la noche
One Thousand Cries Has the Night
Pieces

Runtime:
France:87 min | Greece:90 min | USA:89 min

Links:
http://www.imdb.com/title/tt0082748/

http://www.grindhousereleasing.com